High-Security Business Checks
Write Checks with More Peace of Mind!
Business checks with the highest-level security features available today.
Unique UV-Paper, heat-sensitive ink, fluorescent fibers, dual watermarks, microprinting and many more.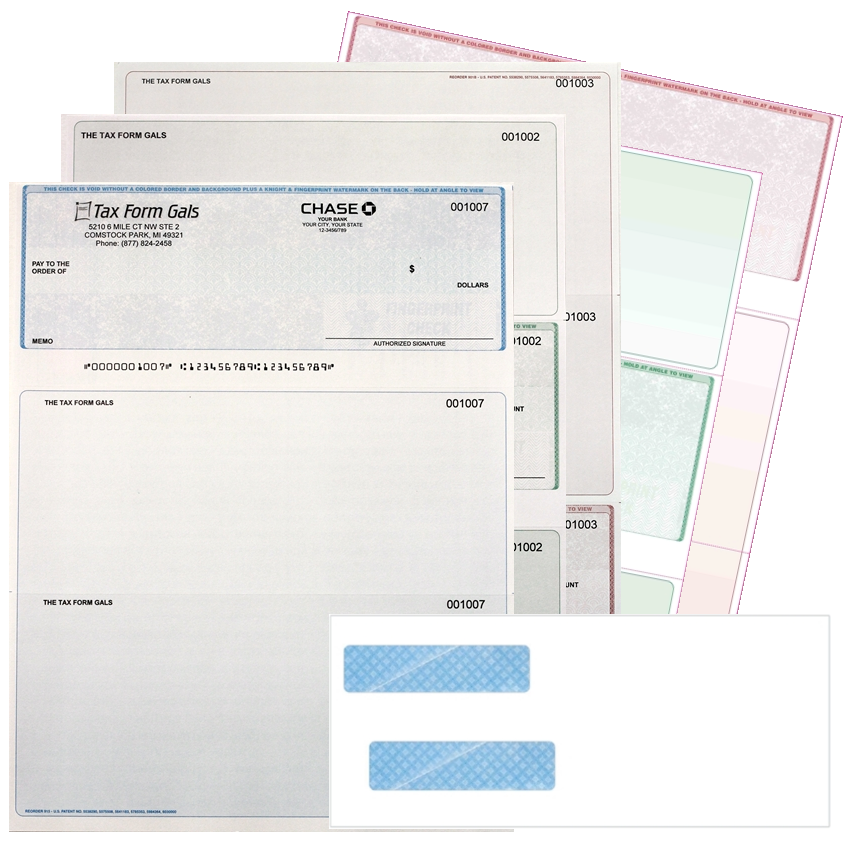 High-Security in a Uncertain World
Top-of-the-line security features exceed guidelines for a high level of protection, at affordable prices!
Gold Security Paper
Our unique, gold security paper is UV Dull. This means that the paper is not as bright white as conventional check stock, allowing allowing the fluorescent security ink to appear blue under a blacklight.

Front of Check Security Features
1] Amount Line SEL Ink/Void Feature – The amount line is printed with solvent, erasable ink that turns white or bleeds when attempting mechanical or chemical alterations. The amount line (US Patented) is also printed with a different pantograph background than the signature area and balance of the check. The patented use of multiple pantograph designs produces voids through different density settings.
2] Unique Borders – The borders on the left and right are unique and interwoven with hidden, covert features that are difficult to copy or scan. On multi-color checks, the border is two colors.
3] Rainbow Prismatic Versions – The pantograph check design is printed with graduated colors. These versions are the most difficult to copy and include a VOID copier security feature.
4] Micro Printing – The bottom line border and endorsement on the back are micro-printed with Fingerprint Security™ and can only be seen when magnified. Micro-printing cannot be photocopied or scanned.
5] Signature Area – The signature area is printed with a different pantograph background than the check and balance of the check. (US Patented)
6] Optional Foil Hologram – Preprinted checks and blank check stock is offered with a foil hologram on the front. It is nearly impossible to replicate and offers the highest-level of affordable security against fraud.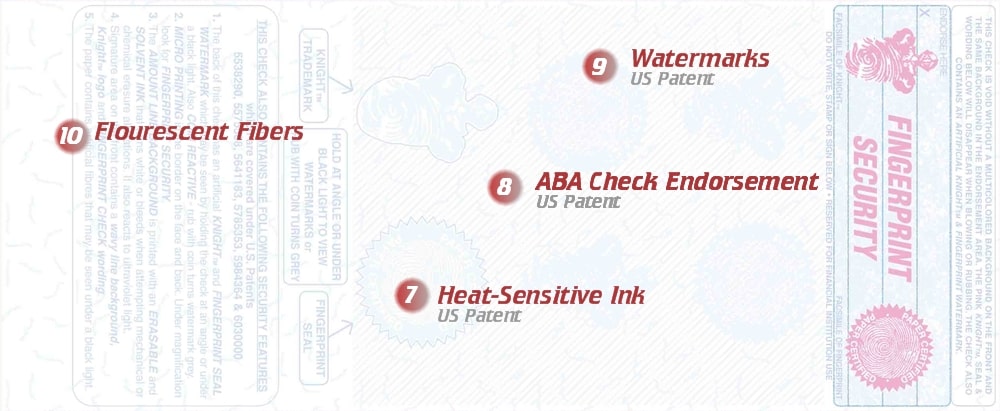 Back of Check Security Features
7] Heat Sensitive Ink – The Knight™, Fingerprint Security™ wording and Seal are printed in the endorsement area on the back with pink, thermochromatic ink that is heat-sensitive and will disappear at temperatures above 85-degrees by breathing on it or rubbing it with your finger. (US Patented)
8] ABA Check Endorsement – A Knight™, Fingerprint Security™ wording and Seal are printed in the endorsement area and are facsimiles of the watermarks. The endorsement is printed with a warning clause indicating the face of the check contains a colored pantograph background the same as the check. (US Patented)
9] Dual Watermarks – The artificial Knight™ and Fingerprint Watermarks cannot be photocopied and may be seen when holding at an angle or under a black light. They are coin-reactive and turn grey by rubbing with a coin.
10] Fluorescent Fibers – The artificial fluorescent fibers may be seen when viewed under a blacklight.
Other Check Security Features
Copier Void
Ultraviolet Dull Paper
Erasure Evident
Chemical Stain
Visible Fibers
Laid Lines
Coin-Reactive Ink
Watermark Certification Seal
Toner Lock
True Watermark
Warning Band
Secure Stock
High-Security Background
Check 21 Compliant
US Patents
Security features are patented in the USA under one or more of the following:
5538290
5575508
5641183
5785353
5984364
6030000
Order High-Security Checks