1099NEC FORMS
New 1099 tax forms replace 1099-MISC for non-employee compensation.
If you used 1099MISC Box 7 to report income for contractors or any type of non-employee compensation in the past, you MUST USE THE NEW 1099-NEC for the 2020 tax year.
Efiling is required for 100+ recipients

Small minimum quantities

Compatible with QuickBooks® and other software
New 1099NEC Forms & Efiling made easy with the right options from Discount Tax Forms. Shop easy, ship fast!
WHAT IS 1099NEC?
The 1099NEC Form is new for 2020.
It is used to report $600+ in non-employee compensation that was previously reported in Box 7 of 1099-MISC form. 
WHEN IS IT DUE?
Forms must be mailed to recipients by January 31.
They must also be mailed or e-filed with the IRS by February 1, 2021 (Jan 31 is a Sunday).
WHO SHOULD USE IT?
Businesses required to report payments of $600 to contractors, freelancers, attorneys and more.
If you have used a 1099-MISC form in the past to do this, use the 1099-NEC for 2020.
ONE MORE THING…
E-filing thresholds have also changed for 2020.
If you file 100+ forms, you must efile. (It used to be 250+)
That will also change again in 2021, with e-file required for 10+ forms per payer.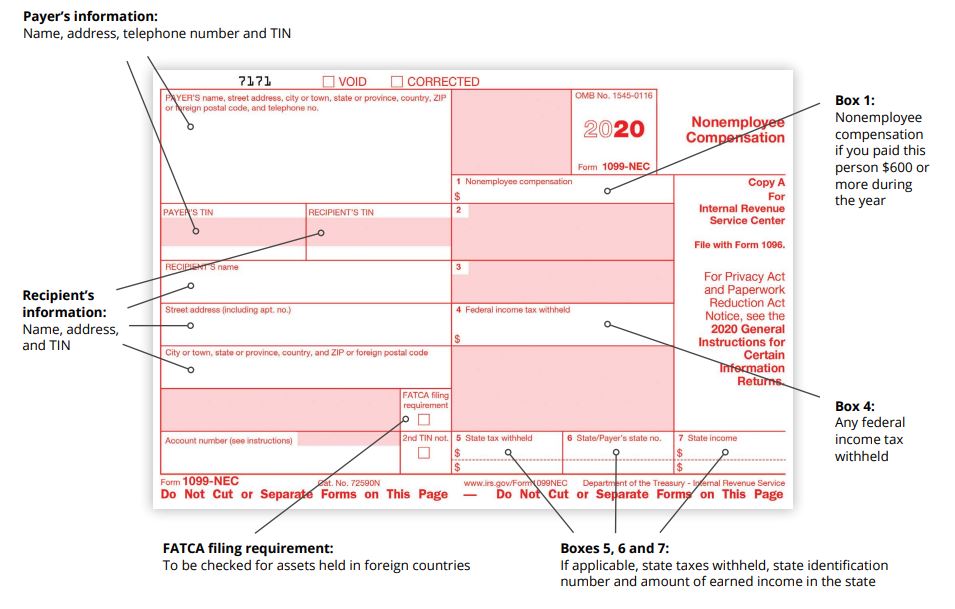 1099-NEC or 1099-MISC?
The IRS will require that businesses use Form 1099-NEC to report non-employee compensation in 2020.
Using the 1099MISC form to report payments to contractors may result in a penalty.
The new 1099NEC form replaces the 1099-MISC for reporting nonemployee compensation (Box 7), shifting the role of the 1099-MISC for reporting all other types of compensation.
The overall process for reporting nonemployee compensation is changing drastically for the 2020 tax year. We've compiled the essential details regarding the changes, so you know what to expect and how to handle each of the forms to avoid penalties.
A Quick Video About New 1099NEC Form Requirements
Instructions for Form 1099-NEC
To use the 1099-NEC properly, you need to understand what is considered non-employee compensation.
Previously reported on Box 7 of the 1099-MISC, the new 1099-NEC will report any payments of $600 or more to nonemployee service providers, such as independent contractors, freelancers, vendors, consultants and other self-employed individuals (commonly referred to as 1099 workers).
According to the IRS, a combination of these four conditions makes a payment reportable on the 1099NEC:
It is made to someone who is not your employee.
It is made for services in the course of your trade or business.
It was made to an individual, partnership, estate, or, in some cases, a corporation.
Payments were $600 or more for the calendar year.
Examples of when to use 1099NEC forms:
Professional service fees to attorneys, accountants or architects
Fees paid by one professional to another
Payments for services, including those for parts or materials used to perform the services, even if they were incidental
Commissions paid to nonemployee salespeople, not repaid during the year
Exceptions:
Payments for merchandise, phone, freight, storage or similar items.
Payments to a tax-exempt organization, including tax-exempt trusts or governments.
Dos and Don'ts for 1099-NEC
✓ Do verify that the recipient's taxpayer ID is correct. You must have Form W-9 from each recipient with the current taxpayer ID before you complete Form 1099-NEC.
✘ Don't use Form 1099-NEC to report personal payments.
✘ Don't use Form 1099-NEC to report employee wages; use Form W-2 instead.
✘ Don't report gross proceeds to an attorney (not fees) on Form 1099-NEC; use Form 1099-MISC instead.
✘ Don't use Form 1099-NEC to report payments of rent to real estate agents or property managers; use Form 1099-MISC instead.
Please note: You must also file Form 1099-NEC (report in box 4) for anyone from whom you withheld federal income tax under the backup withholding rules, regardless of the amount.
Filing Form 1099NEC
Distribute to recipients by January 31.
(For 2020,  Jan. 31 falls on a Sunday, so Monday Feb 1 is the official deadline).
File with the IRS by Jan. 31 through paper or electronic filing.
(For 2020,  Jan. 31 falls on a Sunday, so Monday Feb 1 is the official deadline).
As part of the Taxpayer First Act, many businesses will no longer be able to submit paper forms. For tax year 2020, the electronic filing threshold is 100 forms. Which means any business with 100 forms or more are required to e-file. For an easy efiling solution, check out DiscountEfile.com!
Online Filing Eliminates the Forms!