Where to Buy 1099 & W2 Forms?
Buy 1099 & W2 forms from a fellow small business for discount prices and expert service!
When business buy 1099 & W2 forms and envelopes from the Tax Form Gals at Discount Tax Forms, they get the best options at the lowest everyday prices – no coupon code needed!
Plus, friendly, expert service from a woman-owned small business in Michigan.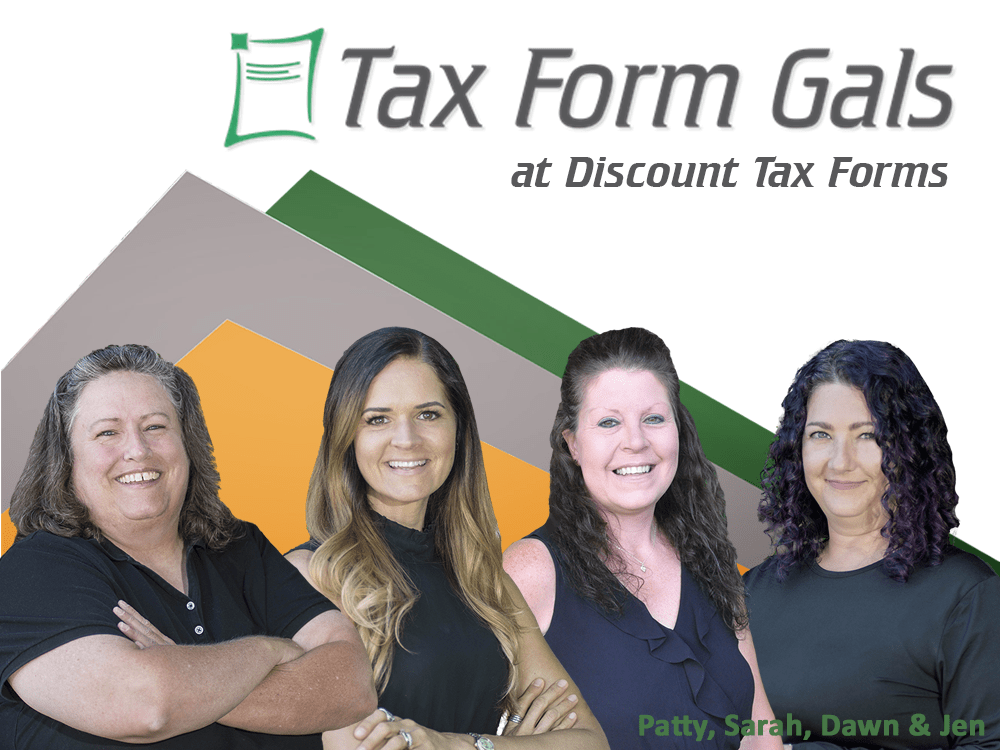 Where can small businesses buy 1099 & W2 forms?
Of course you have lots of choices for where to buy forms, from office stores to Amazon®, Intuit Marketplace® or Deluxe®, but they're not going to give you the small business service you deserve. And will probably require a coupon code to get any kind of discount on their high prices.
Think you can get free 1099 & W2 forms from the IRS? Think again. Their service is completely unreliable. (We know, we've saved thousands of fellow small businesses during tax time crunch with a clutch delivery).
The Tax Form Gals at Discount Tax Forms would love to help your business get the right 1099 forms and W2 forms, on time, at the lowest prices around – no coupon code required!
Weigh your options with a few key factors.
When shopping around for 1099 & W2 forms, consider several factors for these seasonal products that are only on retail shelves for a few weeks out of the year.
Forms Available – if you need the major ones, such as W2 forms, 1099-NEC or MISC, they're really easy to find online. If you need the other 1099 forms, such as DIV, INT, R, etc. you'll probably need to find a more specialty source like DiscountTaxForms.com
Pricing – even though most of these forms are exactly the same because the IRS and SSA require it, 1099 & W2 prices range wildly throughout the market. Don't spend more than you need to, with everyday discount prices from Discount Tax Forms – no coupon code needed!
Shipping – the cost of shipping continues to climb, and paper is heavy, so it can cost more to ship than expected. Compare the total cost of the product + shipping and you'll find that The Tax Form Gals are still less expensive than the big guys.
Expertise – if you have a question about which forms you need, The Tax Form Gals are ready to help! Visit the Resources section of our website, or contact us.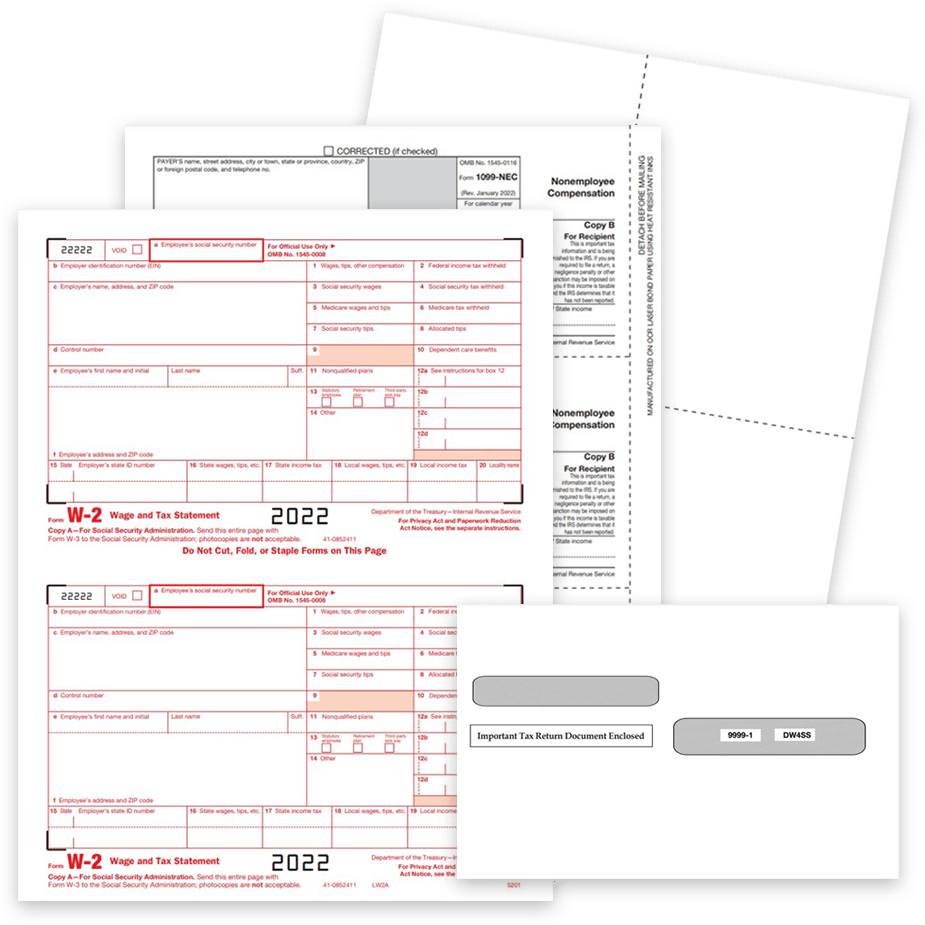 And don't forget envelopes! The recipient forms are required to include printing on the front "Important Tax Return Documents Enclosed" and should have a security tint and cellophane windows, with the right alignment to ensure that confidential data is never exposed.
1099 Changes that could impact your purchase decision.
One thing to consider for the 2022 tax year is that many 1099 forms are now dateless. You will need to fill in the year on each form (don't forget to update your software).
This means that they can be used continuously year after year (unless the actual form changes, so don't get too carried away).
You can stop buying 1099 & W2 forms all together!
File 1099 & W2 forms online and you'll never need to order forms again.
DiscountEfile.com is a completely secure, online system that allows you to simply enter or import the data and we'll do the rest.
Your 1099 & W2 forms will be efiled with the IRS/SSA and recipient copies printed and mailed directly to them. Set up an account for free, set up payers and recipients and don't pay anything until you actually file the forms.
We'll email you updates when filings have been accepted and you can relax.
Sign up for a free account and check it out!
Our small business appreciates yours!
If we're going to succeed, we all need to stick together.
We know you have a lot of choices for where to buy 1099 & W2 forms, but we'd love to help you! If you choose the Tax Form Gals at Discount Tax Forms, we promise that we'll do our best to get you the right products at the best prices, with friendly service.