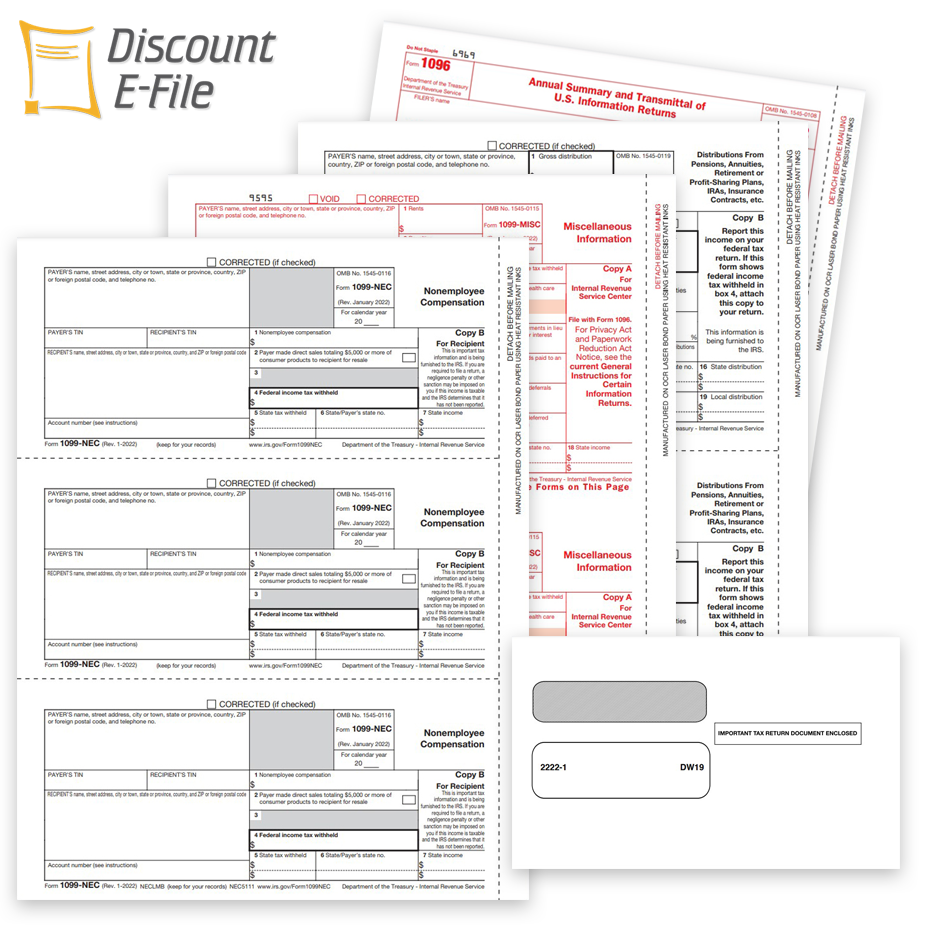 Official 1099 Tax Forms
Order all types of preprinted 1099 tax forms for 2023.
Discount prices – no coupon code needed!
Small minimum quantities for all 1099 forms
Compatible with most accounting software
**NEW** 1099 E-filing requirements — e-file Copy A if you have 10+ W2 and 1099 forms combined for the 2023 tax year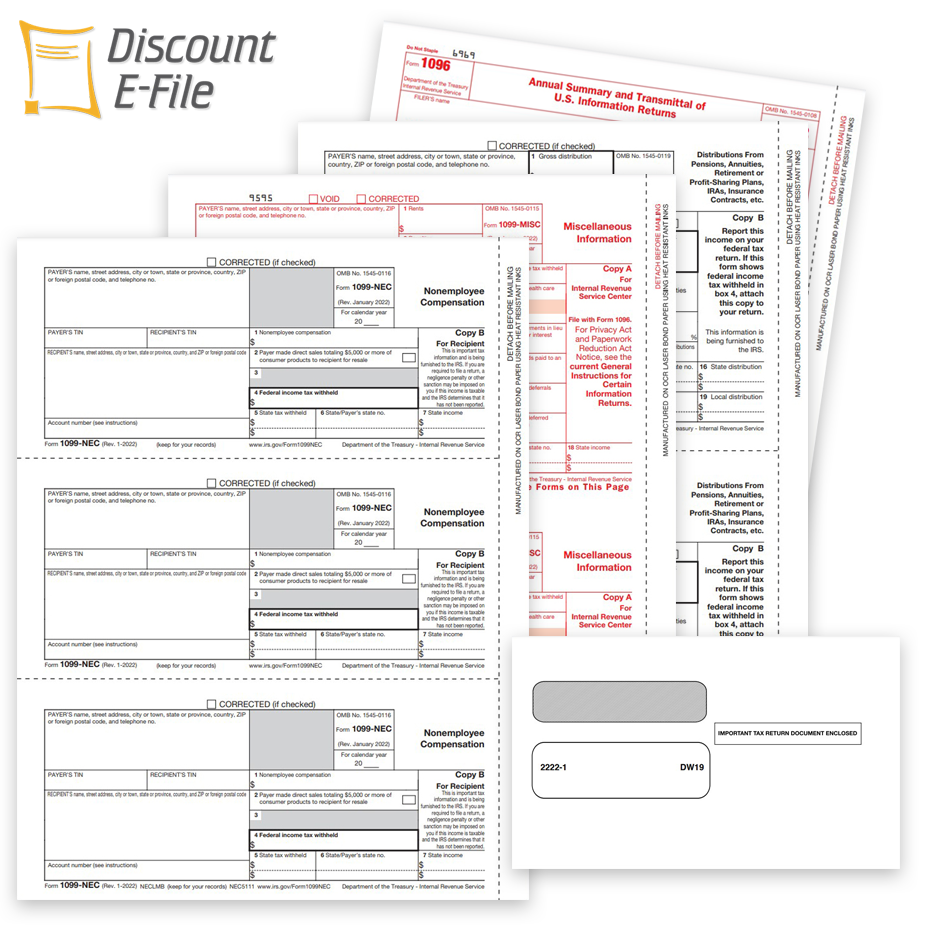 Easily print and efile official 1099 tax forms at discount prices – no coupon needed. 
Shop easy with The Tax Form Gals!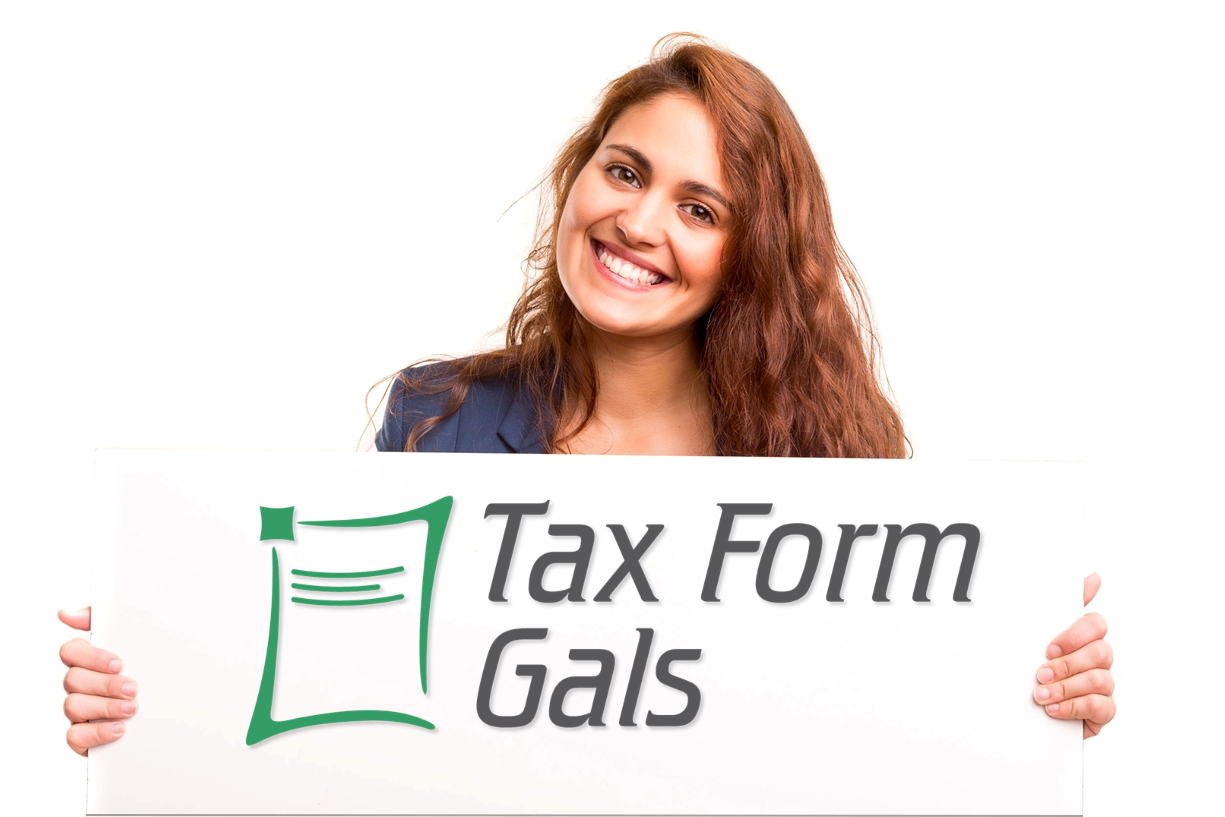 New E-filing Requirement Changes for 1099 & W2 IRS Filing for the 2023 Tax Year
The new E-file threshold for 2023 is 10 W2 and 1099 forms, combined, per EIN.
That means, for example, if your business has 5 1099NEC forms and 5 W2 forms, you must e-file the red Copy A forms with the IRS and SSA by January 31, 2024.
This applies to ANY combination of 10 or more of ANY type of 1099 or W2 forms, except correction forms. Here is a great article with insights to the changes.
Penalties apply if you don't - $60 per form if you file on time and up to $310 per form if you file late.
NEW E-FILE RULES + 
ONLINE FILING
= EASY 2023!
Efile, print and mail 1099 & W2 forms online.
No paper, no software, no mailing, no hassles!
If you have 10 or more 1099 & W2 forms combined for a single EIN, you must e-file Copy A in 2023.
Use DiscountEfile.com to enter or upload data and we'll e-file with the IRS or SSA for you and can even print and mail recipient copies!
Create a free account and get started today!
Pre-Buy Filings on Discountefile.com
Save some money on 1099 & W2 efilings with prebuy bundles at bulk quantity prices!
Normally when using DiscountEfile.com for e-filing and/or print and mail services, you pay for each cart full of form submissions. If you file multiple carts with smaller quantities of forms, that means you don't get the bulk quantity discount pricing.
BUT if you pre-buy a bundle, you'll get the lower prices, even if you only file one form at a time!
These options are great for tax professionals or larger companies with 26 or more forms to file for 2023.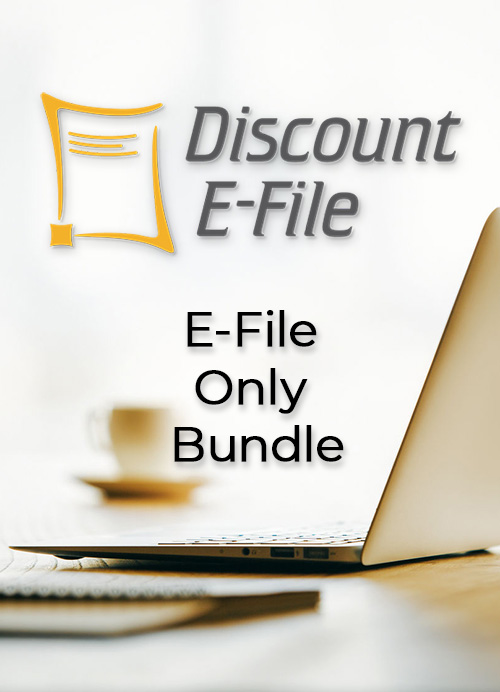 E-File Only Bundle
Get bulk pricing as low as $2.30 each for e-filing 1099 & W2 Copy A forms.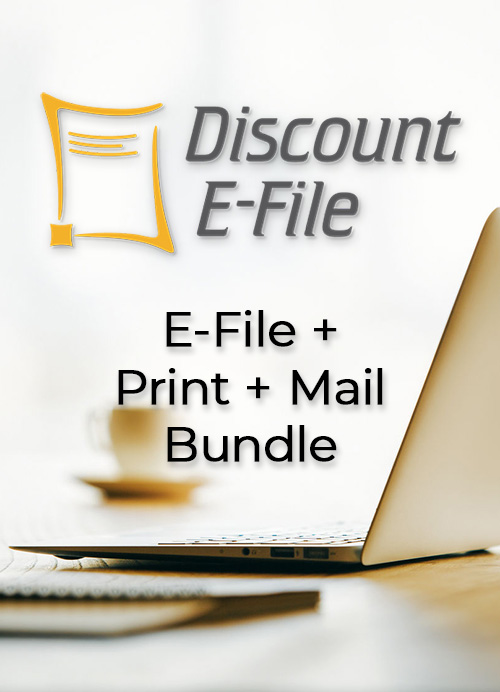 E-File, Print + Mail Bundle
Get bulk pricing as low as $3.25 each for e-filing 1099 & W2 Copy A forms, plus printing and mailing of recipient copies
1099-NEC Forms
for Non-Employee Compensation
1099-MISC Forms
for Miscellaneous Income
Order Other Types of 1099 Tax Forms
1098-E
Student Loan Interest
1099-B
Proceeds from Broker Transactions
1099-C
Cancellation of Debt
1099-CAP
Corporate or Capital Changes
1099-DIV
Dividends and Distributions
1099-G
Certain Government Payments
1099-K
Payment Cards & Transactions
1099-LTC
Long-Term Care & Death Benefits
1099-OID
Original Issue Discount
1099-PATR
Distributions from Cooperatives
1099-R
Real Estate Transaction Proceeds
1099-S
Proceeds from Real Estate
1099-SA
HSA / MSA Distributions
Blog Posts on Official 1099 Forms
How to Correct a 1099 Form
You do not need to correct a 1099 the same way you filed it, so if you mailed a paper copy, you can e-file a correction, or vice versa. However, if you have 250 or more corrections that need to be filed, they MUST be e-filed with the IRS. Learn More >
The easiest way to correct a 1099-MISC form is by using our 1099 Filing Hub > You simply enter the corrected information and we e-file with the IRS and generate a correction form that you print in your office.
Instantly Efile a Corrected 1099
Or, you can Order new 1099-MISC forms to file a correction. Simply check the 'Corrected' box at the top and mail it to the IRS and the recipient.
If you need to correct a 1099 form because the original has errors, you will need to re-file the 1099 form and check the box at the top. But there is an easier way…
read more