Software Compatible Tax Forms
Find the right 1099 & W2 forms for your accounting and tax software.
Tax forms guaranteed compatible, and more affordable, everyday!
Find software compatible tax forms for QuickBooks, Granite, Peachtree, UltraTax, 1099ETC, CFS, ATX, Drake, EasyACCT, TaxWise, Padgett and Shelby software systems.
*All brand names are property of their respective owners
STOP!
YOU LIKELY NEED DIFFERENT 1099 FORMS THIS YEAR…
If you have used 1099MISC forms to report payments to contractors, freelancers or any type of nonemployee compensation (using Box 7), you need to change to the new 1099NEC forms for 2020. 
SAY GOOD-BYE TO RED FORMS, AND HELLO TO E-FILING…
If you file 100 or more 1099 forms, you MUST E-FILE with the IRS in 2020.
This changes again next year, when anyone filing 10+ forms is required to efile. 
LUCKILY, WE HAVE ONE EASY SOLUTION!
Instead of hassling with new forms, wondering if your software meets the new requirements – make the switch to online filing this year.
DiscountEfile.com is super simple and secure. Easily import data from QuickBooks and have us do the rest!
We'll print and mail recipient copies and e-file with the IRS for one low price.
WHAT IS 1099NEC?
The 1099NEC Form is new for 2020.
It is used to report non-employee compensation that was previously reported in Box 7 of 1099-MISC form. 
WHEN IS IT DUE?
Forms must be mailed to recipients by January 31.
They must also be mailed or e-filed with the IRS by Jan. 31, 2020.
WHO SHOULD USE IT?
Businesses required to report payments of $600 to contractors, freelancers, attorneys and more.
If you have used a 1099-MISC form in the past to do this, use the 1099-NEC for 2020.
ONE MORE THING…
E-filing thresholds have also changed for 2020.
If you file 100+ forms, you must efile. (It used to be 250+)
That will also change again in 2021, with e-file required for 10+ forms per payer.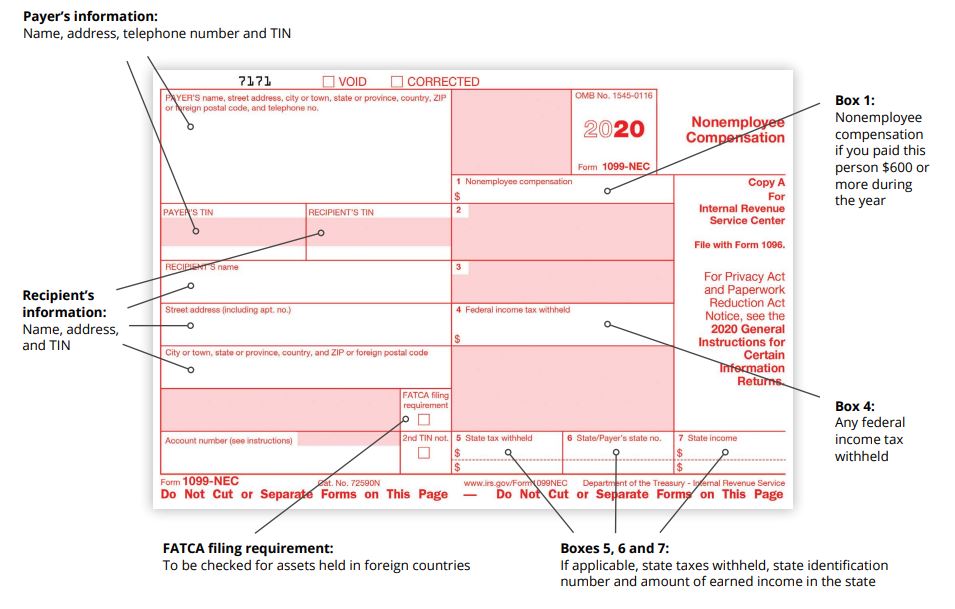 NEW 1099NEC FORMS –
This is HUGE!!!
If you have used 1099MISC in the past to report non-employee compensation in box 7, you MUST USE NEW 1099NEC FORMS in 2020.
We have official forms, blank perforated paper, pressure seal forms, carbonless forms, compatible envelopes and everything you need for easy printing.
Online Filing Makes it All Easier
If you want to skip the hassles of printing and mailing forms, check out our Discount Efile system! You enter or import the data and we do the rest – including e-filing.
Plus, if you file 100 or more forms, you are required to e-file in 2020.
Deadlines for 2020 1099 & W-2 Filing
February 1, 2021
(January 31 is a Sunday)
All 1099 Recipient Copies B / C / 2 mailed to recipient
W-2 Employee Copies B / C / 2 mailed to employees
1099-NEC for contractors - Copy A forms to IRS (via mail or e-file, which is required for 100+ forms)
W2 Copy A to IRS (mailed or e-filed)
March 1, 2021 - Paper 1099 Copy A forms to IRS


(February 28 is a Sunday)
1099 Form Copy A, along with 1096 Transmittals, mailed to the IRS for all 1099 forms except 1099-NEC with non-employee compensation, which are due January 31.
March 31, 2021 - E-file 1099 forms with IRS
1099 Forms E-filed to the IRS, except 1099-NEC with non-employee compensation, which are due January 31.
Instantly print, mail and e-file your 1099 and W-2 forms.
Simply enter your data, or import it from QuickBooks®, then click a few buttons and you're done.
We print and mail recipient copies, plus e-file with the government, for around $4 per form.
**IF YOU FILE MORE THAN 100 W2 or 1099 FORMS, YOU MUST E-FILE FOR 2020**
Whether you need to file W2s for employees, or 1099-MISC for contractors, we can help!
Use this guide to understand how to file, when to file and the best forms, software and solutions for you.
2up W2 Forms
2 forms per sheet, all blank paper can include employee instructions on the back.
Use them for Official W2 forms (2 of the same copies) or condensed 2up employee Copies B/C for federal filing.
3up W2 Forms
3 forms on a sheet, typically with a vertical size strip to remove before mailing.
Use for condensed 3up W2 forms for employees, Copies B/C/2 for federal and state filing.
4up W2 Forms
4 forms on a single sheet, perforated into quadrants or horizontal sections depending on your software.
Use for 8pt W2 printing of employee Copies B/C/2/2 for federal, state and local filing.
Tips for Easier W2 Filing
Check your software for supported formats:
Preprinted forms (prints data on a pre-made form) or
Blank paper (prints data and boxes on a perforated sheet)
2up, 3up or 4up forms
Be sure your envelope windows match!
W3 Transmittal forms must be mailed with Red Copy A forms. We include a couple FREE W3 forms with each W2 order.
Online filing is an option! DiscountEfile.com lets you enter or import data, and then takes care of the rest. Your forms are e-filed with the IRS/SSA and mailed to employees automatically. With a few clicks, you're done! Learn more.