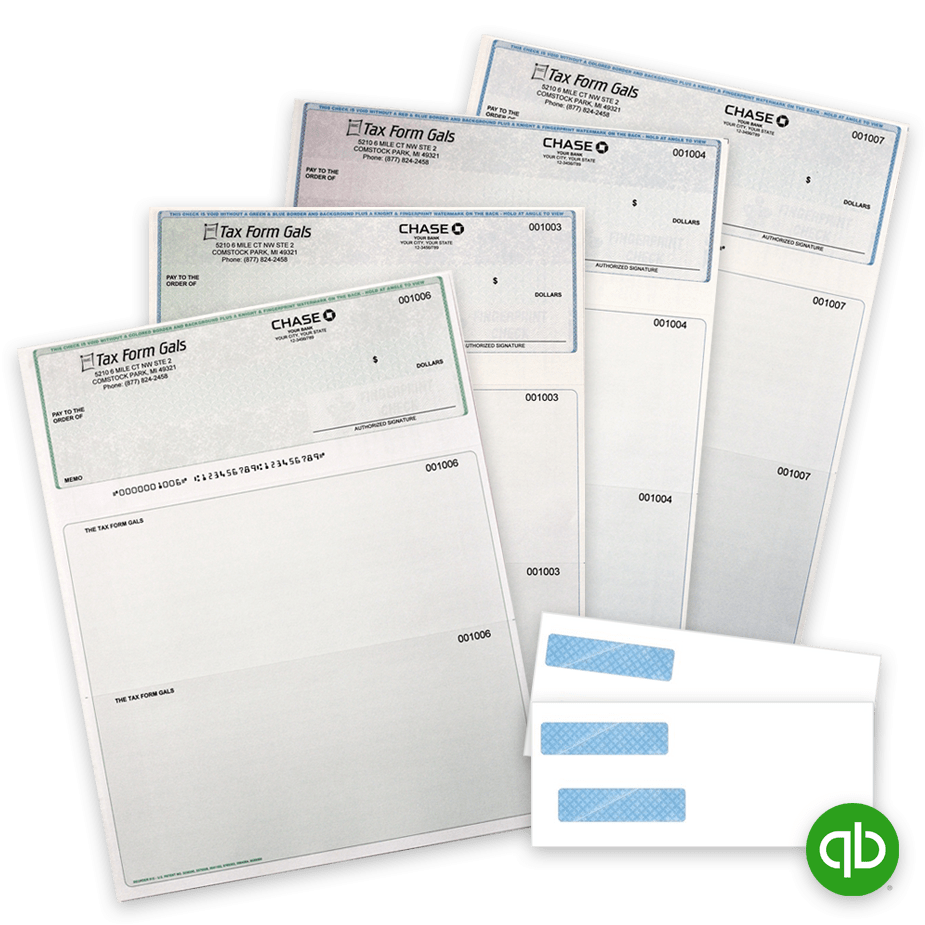 QuickBooks® Checks
Business Checks Compatible with Intuit® QuickBooks® Software.
QuickBooks compatible checks at big discounts – save up to 50% off Intuit® prices 
Free logos on preprinted checks
Most checks ship within 48 hours on business days
Guaranteed 100% compatible
High-Security Business
Checks for QuickBooks
Our Price: $92.50 qty 250
Intuit® $139.99 qty 250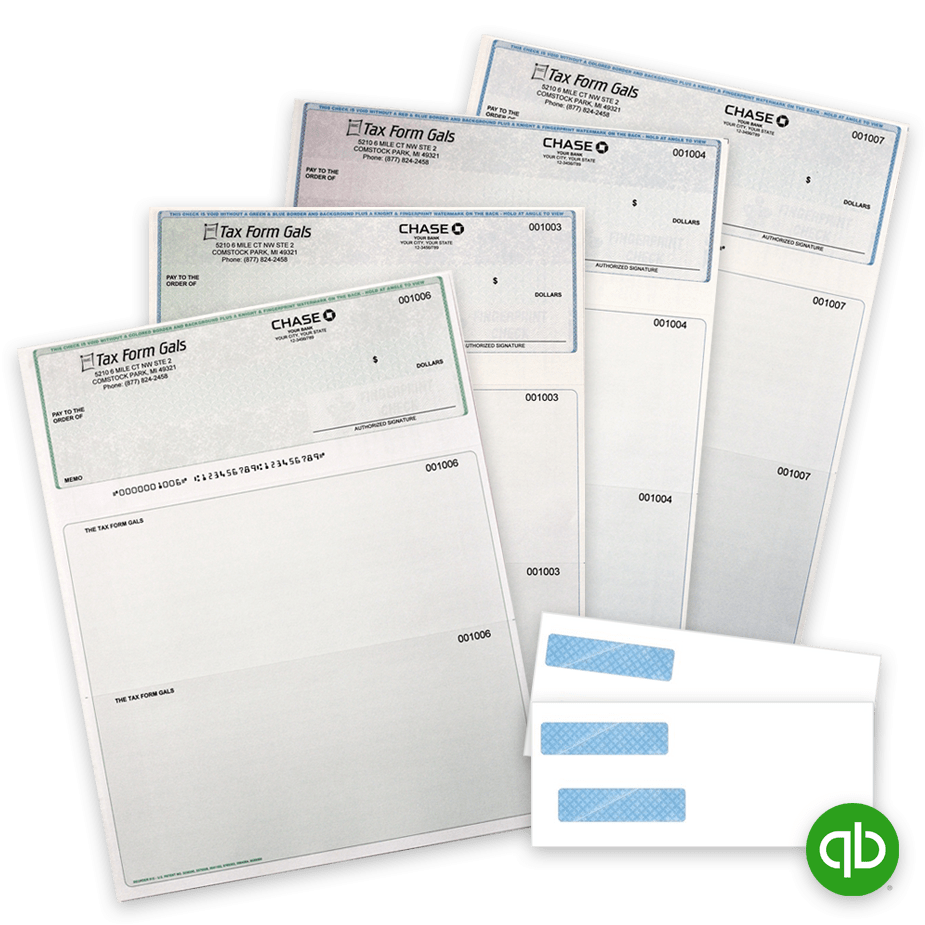 High-Security Business Checks are Guaranteed Compatible with QuickBooks at Deep Discounts – No Coupon Needed.
Shop Easy with The Tax Form Gals!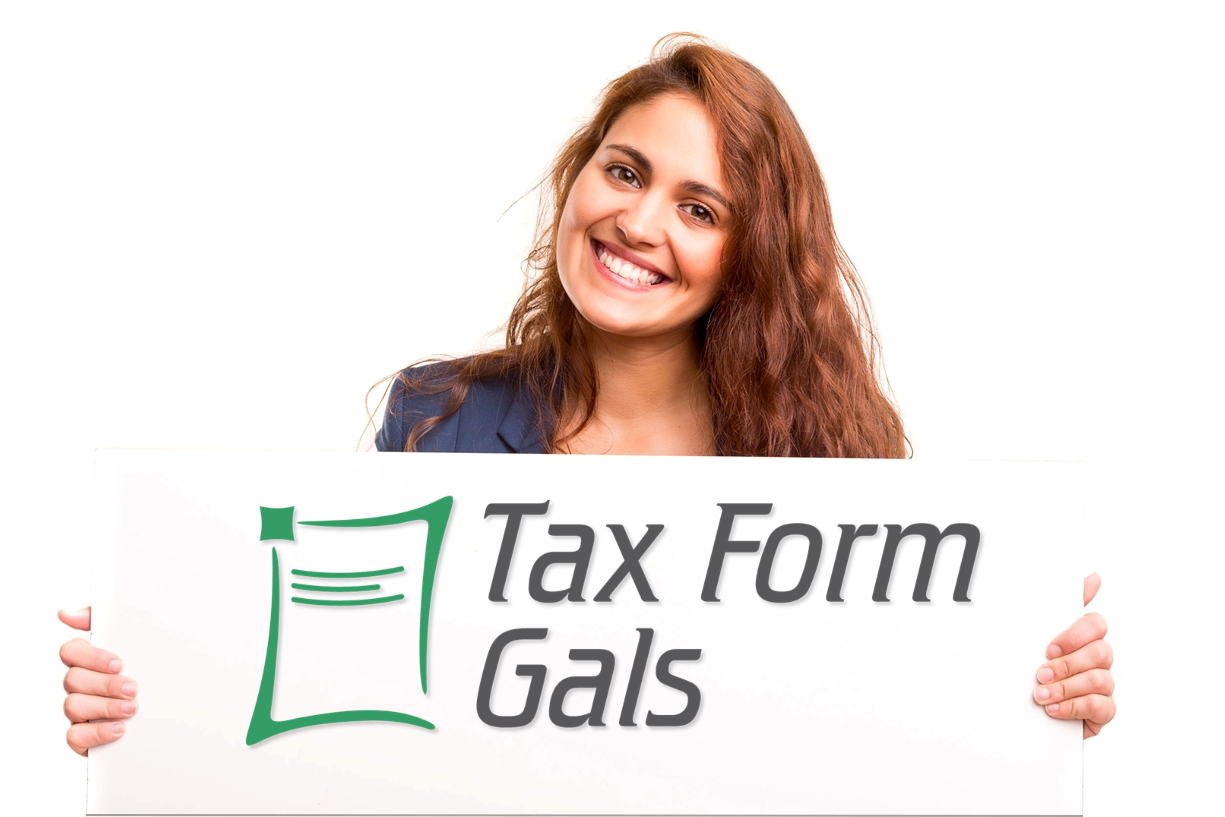 NEW! Premium Security Hologram Checks
Get the highest-level of affordable security and take extra precaution against check fraud with our new line of hologram business checks.
Available as blank check stock paper or preprinted checks for your accounting software, high-tech foil hologram checks provide unmatched security for your peach of mind.
Shop All QuickBooks Compatible Checks
Compare Check Prices and Save
Get Everyday Discount Prices on Business Checks with The Tax Form Gals – No Coupon Code Needed!
How do we keep check prices so low?
As a 4-woman team in Michigan with amazing resources, we deliver business checks for less, without ever sacrificing quality or security. 
While the big guys have giant operations to pay for, we're a small business like you.
We print checks in our own facility to keep costs down, and work with a major supplier of check stock to pass the savings along to our customers.
Call the Tax Form Gals at Discount Tax Forms for the best deal, and the best service you'll find!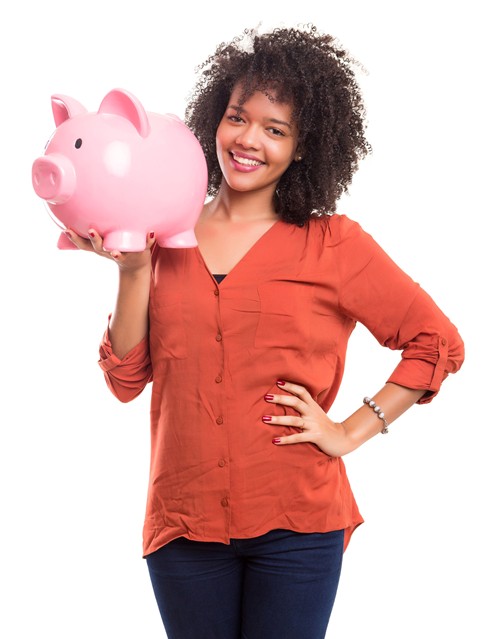 Resources for QuickBooks Users
QuickBooks® Resources
Learn about efficient filing of tax forms and more with Intuit® QuickBooks software.
How to set up a contractor
How to e-file 1099s and W2s
Check writing and printing
Setting up and paying payroll taxes
Find a QuickBooks advisor
Premium security and peace of mind come with the top-level fraud protection offered by business checks with a foil hologram icon. Hear a customer's story and learn why they made the switch after battling check fraud that could have cost them thousands.
read more
If you need to correct a 1099 form because the original has errors, you will need to re-file the 1099 form and check the box at the top. But there is an easier way…
read more
If you need to correct a W2 form because the original has errors, you will likely need to file a W2C form (W-2 Correction Form). This is different than a standard W2 form, and requires a few additional steps. But first, you need to answer one big question: Have you already filed W2 Copy A with the SSA?
read more
Good luck getting your hands on a QuickBooks coupon code! If you need to file 1099 and W2 tax forms, your bank account isn't going to like the prices charge by Intuit. Look to Discount Tax Forms for lower prices every day!
read more