QuickBooks® Forms
Tax forms, checks, envelopes and more for QuickBooks.
QuickBooks forms up to 50% off Intuit® prices
Small minimum quantities
Guaranteed 100% compatible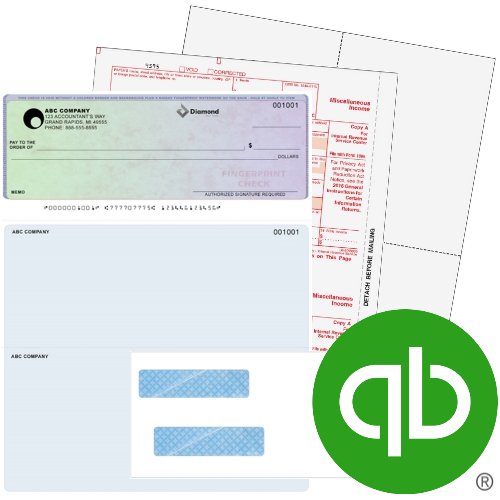 QuickBooks Forms and Checks for Guaranteed Compatibility at Deep Discounts. Shop Easy, Ship Fast!
Low minimum quantities and low prices every day.
QuickBooks Checks
Laser checks for QuickBooks software have the highest security features at significantly lower prices.
Plus, we print your logo for free!.
Most checks ship within 48 hours from our local, secure facility.
Fast, friendly service from the Tax Form Gals
Compare prices and save more with Discount Tax Forms everyday!
Compare and Save with Discount Tax Forms for QuickBooks®
1099MISC Form Set with Envelopes
Qty 25
$46.95 Discount Tax Forms
$72.99 Intuit QuickBooks
$88.85 Greatland
Blank W2 Form Kits with Envelopes
Qty 25
$26.50 Discount Tax Forms
$45.99 Intuit QuickBooks
$79.15 Greatland
High Security Business Checks
Qty 500
$90.00 Discount Tax Forms
$230.99 Intuit QuickBooks
$123.00 Deluxe (first time orders)
Eliminate the Forms with Online 1099 & W2 Filing!
Popular QuickBooks Forms & Checks
QuickBooks Resources for Small Business
QuickBooks Resources for 1099 & W2
Resources for more efficient filing of 1099 & W2 Forms with QuickBooks.
How to set up a contractor
How to e-file 1099s and W2s
Check writing and printing
Setting up and paying payroll taxes
Find a QuickBooks advisor
Whether you need to file W2s for employees, or 1099-MISC for contractors, we can help!
Use this guide to understand how to file, when to file and the best forms, software and solutions for you.
Blog Posts on QuickBooks Forms
There are various 'Copies', or parts, of a W-2 form, each with a different name. Although they will have the same information about the employer and employee, earnings and withholdings, each copy is given to a different entity. This ensures correct reporting during the income tax filing process. W-2 Forms are filled out by the employer and provided to the employee or a government agency.
read more