EasyACCT™ Software Compatible Tax Forms
Find the right 1099 & W2 forms for your EasyACCT software system easily.
Tax forms are guaranteed compatible, and more affordable, everyday!
Printing year-end wage forms is quicker and easier when forms align perfectly with the data format of your software. We've done the research for you.
*Brand names are property of their respective owners
1099 & W2 Form Changes for 2021
1099NEC is a 3up format (instead of 2up) Learn More
E-Filing of Copy A COULD be required for 100+ forms.
The IRS will make the decision by November. For now, it is required for 250+ forms. Stay tuned to Discount Tax Forms...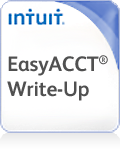 1099 & W-2 Forms for EasyACCT™ Write Up Software
Guaranteed Compatible!
If you have any problems, we will replace the product or refund your money.
1099NEC FORMS CHANGE TO 3UP FORMAT FOR 2021

New 1099NEC forms for reporting payments to non-employees (contractors, freelancers, etc) were new in 2020, and are changing again this year to a 3up format (instead of the 2up format last year). This means you will need new forms and envelopes!
If you have used 1099MISC in the past to report non-employee compensation in box 7, you MUST USE NEW 1099NEC FORMS in 2021.
We have official forms, blank perforated paper, pressure seal forms, carbonless forms, compatible envelopes and everything you need for easy printing.
E-FILING REQUIREMENTS MAY CHANGE FOR 2021
The IRS is now considering changing the 2021 e-filing threshold for 1099 & W2 forms.
It is now 250+ forms, but could change to 100+ when they make a final decision in November.
Please stay tuned to Discount Tax Forms and the Official IRS Instructions website for finalized regulations.
We make it e-filing 1099 & W2 forms easy with our DiscountEfile.com system! We can even print and mail recipient copies for you!
1099MISC & 1099NEC Forms Compatible with EasyACCT Software
W2 Forms Compatible with EasyAcct
Other Compatible 1099 Forms & Envelopes
Resources for Easy Filing
Whether you need to file W2s for employees, or 1099-NEC for contractors, we can help!
Use this guide to understand how to file, when to file and the best forms, software and solutions for you.
There are various 'Copies', or parts, of a W-2 form, each with a different name. Although they will have the same information about the employer and employee, earnings and withholdings, each copy is given to a different entity. This ensures correct reporting during the income tax filing process. W-2 Forms are filled out by the employer and provided to the employee or a government agency.
read more