Product Details
2023 W2 Tax Forms – Employer Copies 1 & D for State or Files
Order official W2 Tax Forms for employers at big discounts – no coupon needed! This W2 Copy D & 1 form is required for employers to fie with a State or Local tax agency, or keep as a file copy for their records. Compatible with most tax and accounting software.
Shop easy with the Tax Form Gals.
W-2 tax form Copy 1/D is used for the employer to send Copy 1 to the state or city and keep Copy D for their files. The forms are interchangeable.
You will also need Employer W2 Copy A to complete employer W2 filing. As well as employee W2 form Copies B, C & 2.
W2 FORMS COMPATIBLE WITH QUICKBOOKS & OTHER ACCOUNTING SOFTWARE.
W2 Copy D-1 Tax Form Specs:
Order a quantity equal to the number of employees you have.
2up forms (Copy D and Copy 1 on a single sheet)
8.5″ x 11″ sheet
Printed in black ink on 20# laser paper
Mail in a batch to the state or city.
NEW! E-file Requirement Changes for W2 & 1099 Filing
You must e-file Copy A if you have 10+ W2 and 1099 forms combined for the 2023 tax year.
This applies to ANY combination of 10 or more of ANY type of 1099 or W2 forms, except correction forms.
We make it easy for businesses to make the change to e-filing!
Check out DiscountEfile.com … and we'll efile with the IRS or SSA and can even print and mail recipient copies for you. Get it all done in one step in our fully-secure, top-rated online system.
Decoding W2 Form Requirements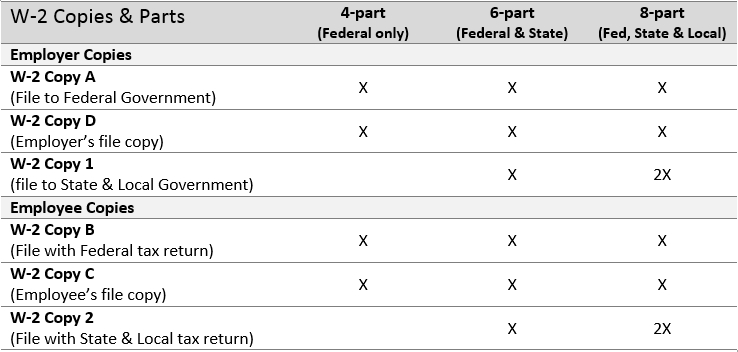 Click the "How to Choose the Right W2 Forms" tab to learn more about which forms are right for your business