Product Details
W-2 Tax Forms Set with Official Preprinted Forms
Easy W2 Form Printing and E-Filing with The Tax Form Gals!
Convenient set of pre-printed W2 tax forms in the official, 2up format. Everything you need to print W2 forms to employees is included, along with employer copies and a free W-3 Transmittal form.
These forms are the Official W-2 Format, with 2 of the same form on each sheet.
NEW W2 E-FILE REQUIREMENTS FOR 2021
If you have 10+ employees , you are required to e-file for the 2021 tax year. Learn about our easy e-file service at DiscountEfile.com. We can even print and mail employee copies!
**IMPORTANT** If you have 10+ employees for the same employer and need to e-file, YOU DON'T NEED THIS SET OF FORMS! You'll only need employee W2 Copy B for federal, W2 Copy C for file and W2 Copy 2 for state or city… or print them all in one pass with a Condensed W2 3up or Condensed W2 4up with all of the employee forms on a single page (format depends on number of parts and software compatibility). You may also need Employer Copy D/1.
Choose the number of W2 parts based on your filing requirements
4pt (federal only filing) Item# 95214
6pt (federal and state) Item# 95216
8pt (federal, state and city) Item# 95218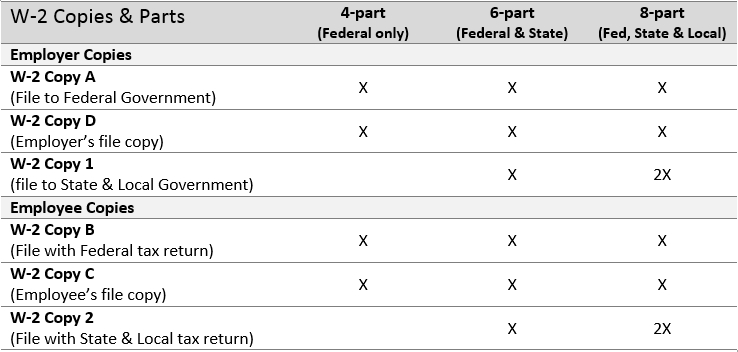 Click the "How to Choose the Right W2 Forms" tab above to learn more about which forms are right for your business.