Product Details
W-2 Tax Forms Set with Official Preprinted Forms and Compatible Envelopes
Easy W2 Form Printing, Mailing and E-Filing with The Tax Form Gals!
Convenient set of pre-printed W2 tax forms in the official, 2up format with matching security envelopes. Everything you need to print and mail W2 forms to employees is included, along with employer copies and a free W-3 Transmittal form.
These forms are the Official W-2 Format, with 2 of the same form on each sheet.
NEW W2 E-FILE REQUIREMENTS FOR 2021
If you have 10+ employees , you are required to e-file for the 2021 tax year. Learn about our easy e-file service at DiscountEfile.com. We can even print and mail employee copies!
**IMPORTANT** If you have 10+ employees for the same employer and need to e-file, YOU DON'T NEED THIS SET OF FORMS! You'll only need employee W2 Copy B for federal, W2 Copy C for file and W2 Copy 2 for state or city… or print them all in one pass with a Condensed W2 3up or Condensed W2 4up with all of the employee forms on a single page (format depends on number of parts and software compatibility). You may also need Employer Copy D/1.
Choose the number of W2 parts based on your filing requirements
4pt (federal only filing)
6pt (federal and state)
8pt (federal, state and city)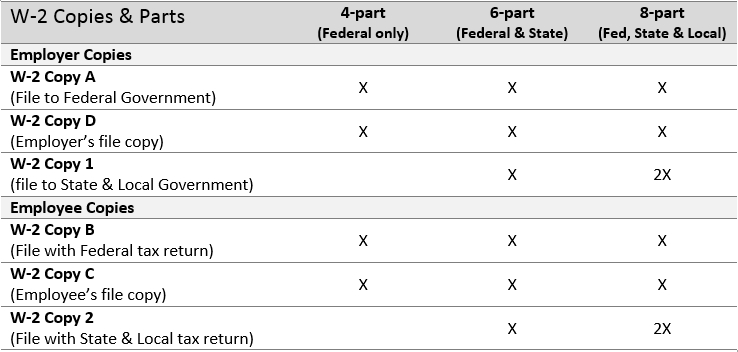 Click the "How to Choose the Right W2 Forms" tab to learn more about which forms are right for your business.