Product Details
W2 Tax Forms Compatible with Intuit® QuickBooks® Software Compatible – Copy A (Federal SSA)
Use Intuit® QuickBooks® Software to print W-2 Form Copy A to report wage and withholding information to the SSA (Social Security Administration) from the employer.
Get big discounts – no coupon needed from The Tax Form Gals! Our small business is ready to help yours.
To comply with requirements, this original, red-scannable form must used unless you laser generate it using an IRS approved software package.
GUARANTEED 100% COMPATIBLE WITH QUICKBOOKS
A Free W-3 Transmittal Form is included with your order! One is required for each employer to summarize the batch of W2 Copy A forms. Order W-3 forms here if you need more.
To complete W2 filing, you also need Employer Copy 1-D and Employee W2 Copies too.
Looking for an easier way to file W2 forms?
Let us do it for you with DiscountEfile.com! You enter or import data from QuickBooks and we'll do the rest. Your W2s will be securely e-filed with the SSA and employee copies will be printed and mailed to them automatically. Set up a free account and don't pay anything until you file the forms!
QuickBooks W2 Tax Form Copy A Specs:
Order a quantity equal to the number of employees you file W2 forms for.
2up forms
8.5″ x 11″
No side perforation
20# laser paper
Red scannable per IRS requirements
Mail in a batch to the Social Security Administration with a W3 Summary & Transmittal Form.
Decoding W2 Form Requirements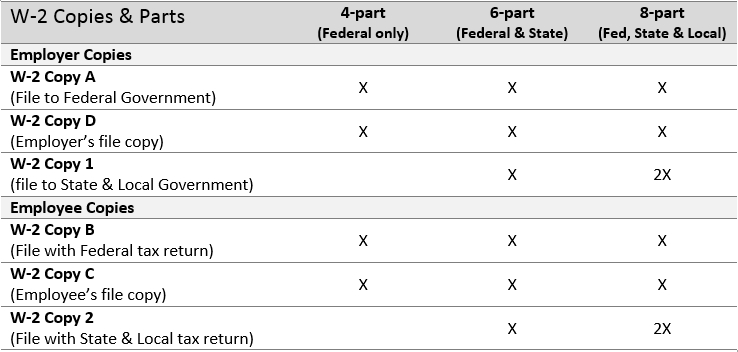 Click the "How to Choose the Right W2 Forms" tab to learn more about which forms are right for your business
POSSIBLE CHANGE TO W2 E-FILING REQUIREMENTS
The IRS is currently CONSIDERING a change to the e-filing threshold for 1099 & W2 forms. It is currently 250+ forms, but COULD change to 100+. Stay tuned to Discount Tax Forms and the Official IRS 1099 Instructions for developments.
If you need to efile, check with your software provider or use our online service, DiscountEfile.com to get it all done easily. We can even print and mail recipient copies for you!