Product Details
Blank Perforated W2 Form Sets with Envelopes – 4up Quadrant V1 Format
Easily print and mail employee W2 Copies B, C, 2, 2 on one, perforated 4up sheet.
Shop Easy & Ship Fast with The Tax Form Gals!
Perfect for 8-part W-2 forms – required for filing with federal, state and local agencies.
Just print one sheet, fold and mail in the compatible envelopes included.
Blank W2 Tax Form Paper Set Specs
Order a quantity equal to the number of employees you have.
Blank 4up W2 form paper
Version 1 quadrant layout
Perforated paper has instructions on the back
Compatible, security envelopes with moisture seal with required wording: "Important Tax Return Document Enclosed"
Ideal for e-filers who don't need Red Copy A forms or W3 Transmittals.
Choose the number of W2 parts based on your filing requirements
4pt (federal only filing) – works best with 2up W2 forms
6pt (federal and state) – works best with 3up W2 forms
8pt (federal, state and city) – works best with 4up W2 forms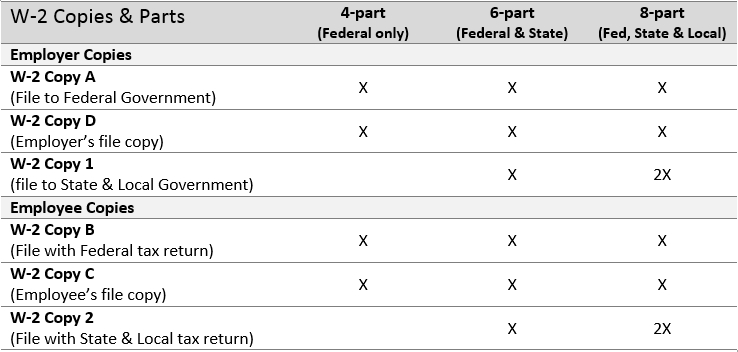 Click the "How to Choose the Right W2 Forms" tab above to learn more about which forms are right for your business.
POSSIBLE CHANGE TO W2 E-FILING REQUIREMENTS
The IRS is currently CONSIDERING a change to the e-filing threshold for 1099 & W2 forms. It is currently 250+ forms, but COULD change to 100+. Stay tuned to Discount Tax Forms and the Official IRS 1099 Instructions for developments.
If you need to efile, check with your software provider or use our online service, DiscountEfile.com to get it all done easily. We can even print and mail recipient copies for you!